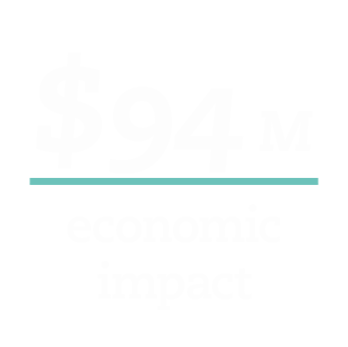 student matinee attendance
Education & Outreach program participants
increase in our educational outreach
Dear Friends,
CAPA's 50th anniversary has been a year-long celebration. In reflecting back on those 50 incredible years and looking forward to the exciting opportunities in the next 50, there is nothing more fitting than to say THANK YOU. In 1969, CAPA was formed by just a handful of individuals, but even in the early years, it took the support of the community to help us succeed.The close of the 2017-18 season commemorates two important anniversaries for me.
From our initial goal of saving the beloved Ohio Theatre, we have grown to become an almost $25 million non-profit performing arts organization that owns or manages ten central Ohio entertainment venues. That doesn't happen without a community that cares, that values the arts, and that gets involved, and we are tremendously grateful for you. We celebrate this milestone with you and because of you.
So where do we go from here? Within this report, you fill find the strategic pillars that are the guideposts for our future. We will grow our education programs, including the CAPA Marquee Awards that began this season. We will broaden our programming efforts to provide something for everyone in our increasingly diverse community.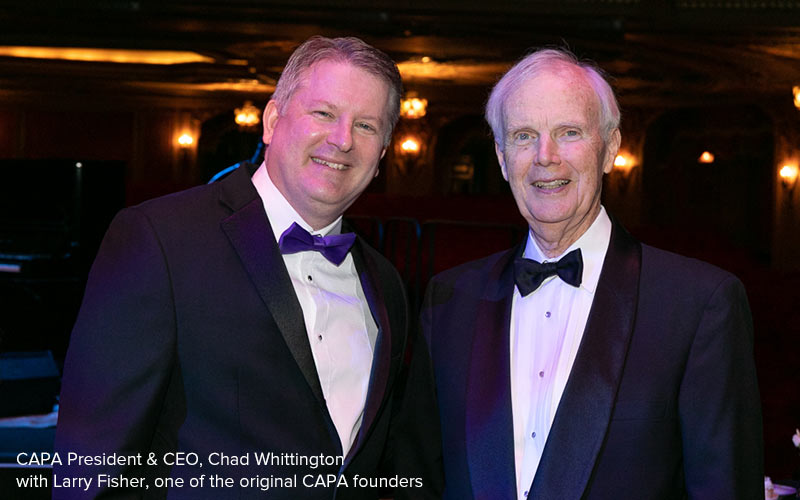 We will continue to preserve and protect our world-class theatres so they can serve central Ohio for generations to come. And we will collaborate with our partners in the arts community to make Columbus a national destination for living, breathing art.
Thank you again for celebrating CAPA's 50th anniversary with us. We look forward to seeing you soon!

CHAD WHITTINGTON
CAPA President & CEO
The Columbus Association for the Performing Arts (CAPA) marked its 50th anniversary in 2019, and celebrated the milestone with fresh, new branding and a year-long, community celebration. A series of special events were held throughout the year to thank the community for 50 years of enthusiastic support of CAPA and the performing arts in Columbus.
From a free Mighty Morton Organ Concert & Singalong to commemorate the Ohio Theatre's 1969 "Farewell Concert" to a CAPA Theatres Open House Walking Tour with never-before-offered, behind-the-scenes access, CAPA opened its doors in new ways to engage and thank the community for its many years of support.
Here are the many ways CAPA celebrated its 50th anniversary throughout the season: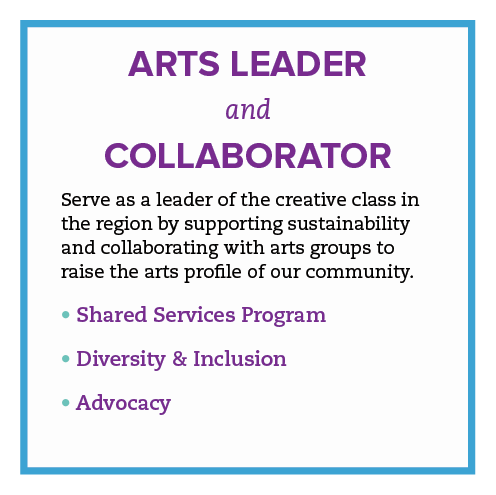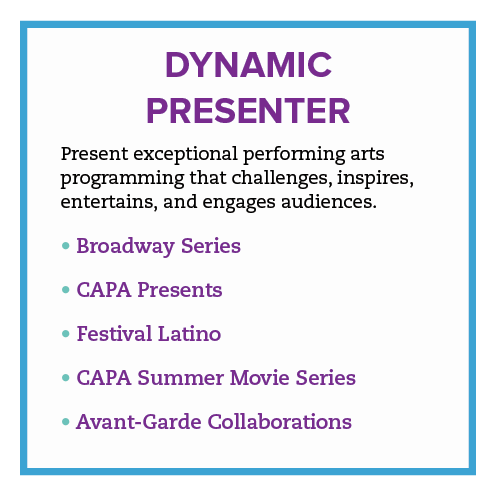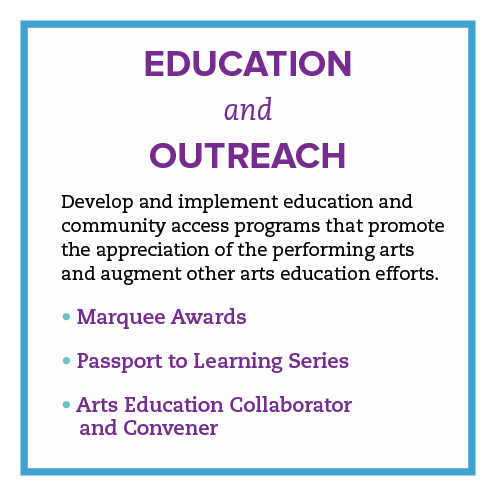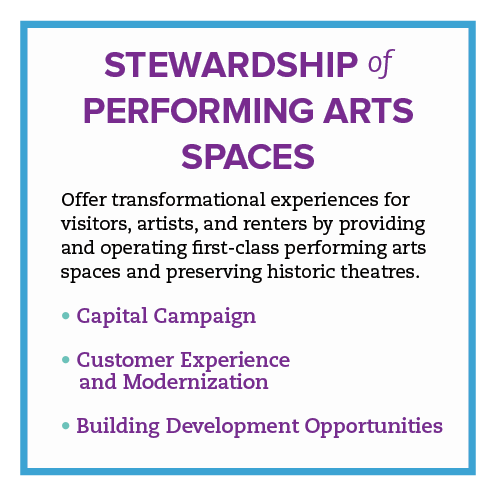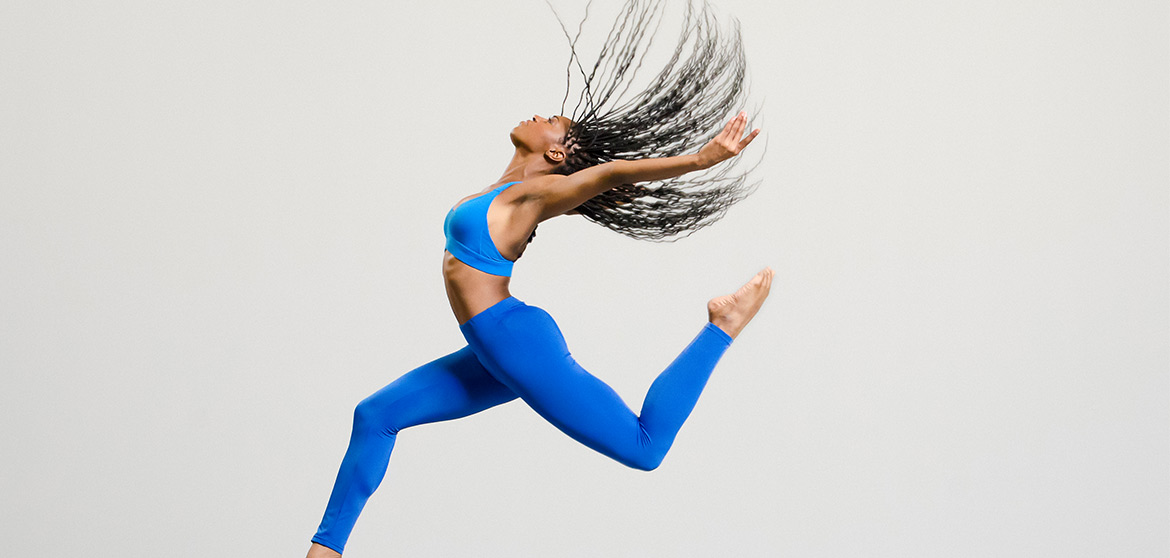 Alvin Ailey II dancer | Corrin Rachelle Mitchell | photo: Kyle Froman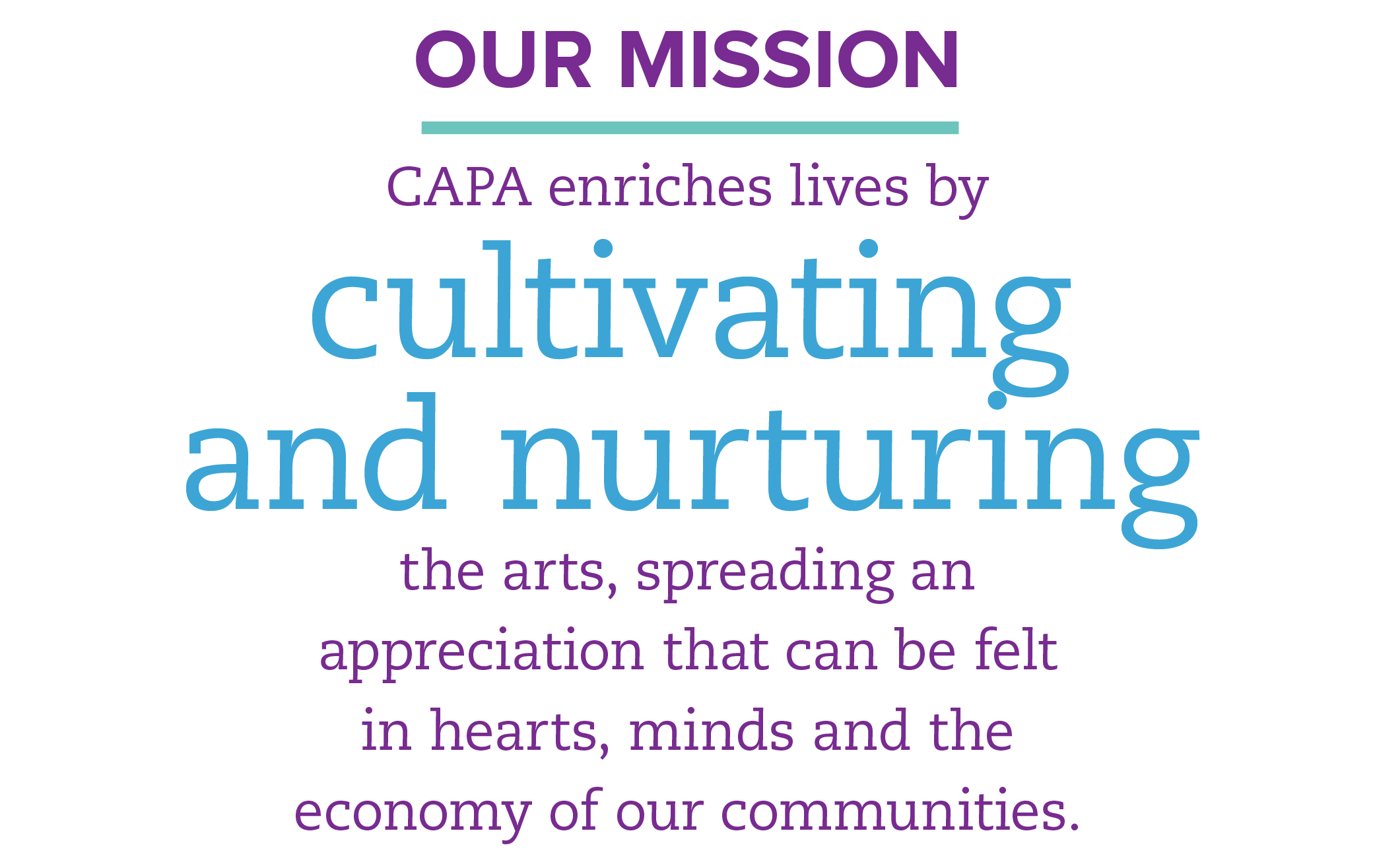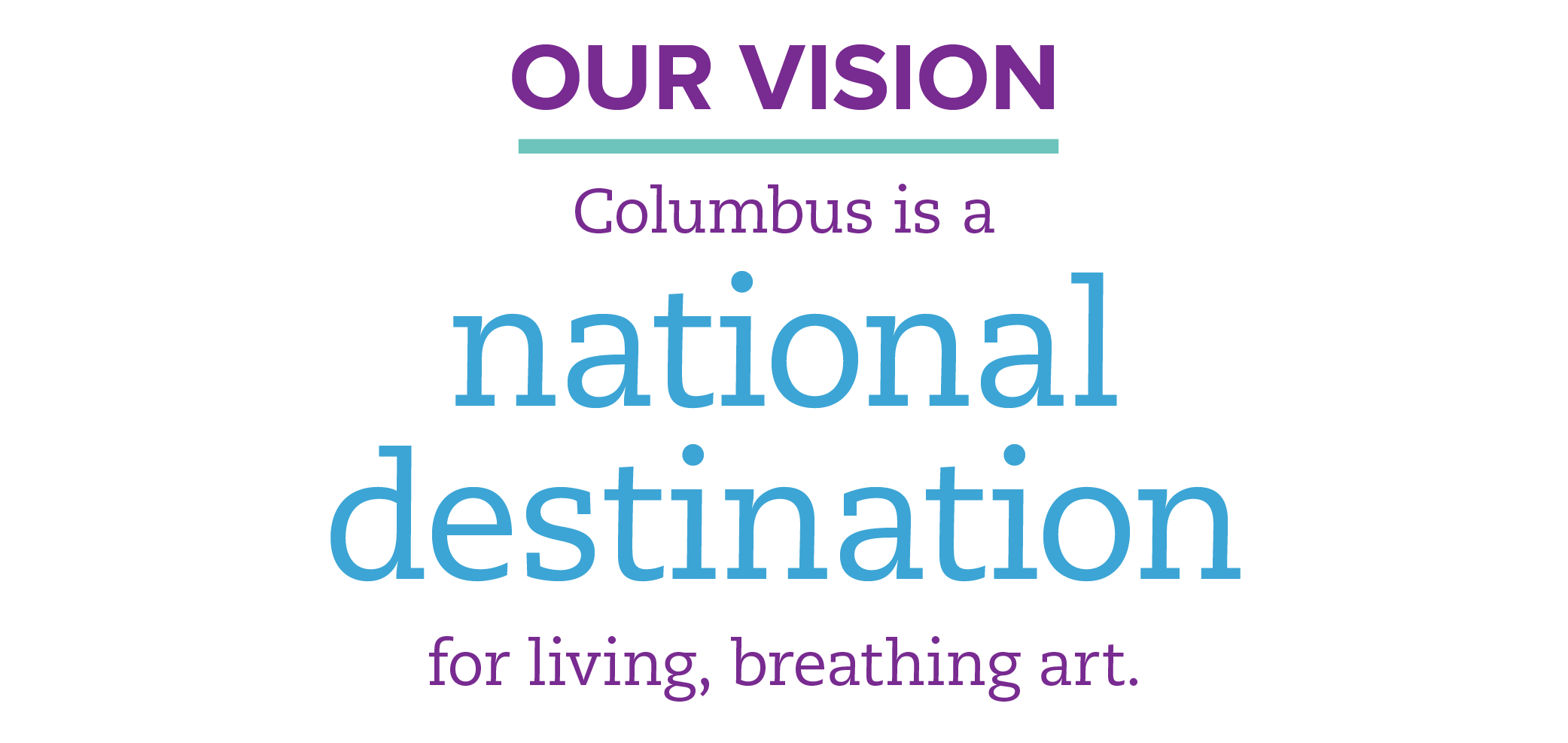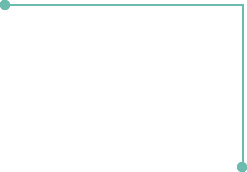 EDUCATION & OUTREACH INITIATIVES
In the 2018-19 season, CAPA's Education & Outreach programs connected more than 18,000 community members of all ages, providing free and low-cost educational and artistic experiences.
CAPA MARQUEE AWARDS
CAPA launched the CAPA Marquee Awards, an initiative designed to celebrate, support, and advocate for high school musical theatre education throughout central Ohio. Ten high schools participated in the inaugural season, engaging 744 students and staff. Throughout the year, students participated in a series of free master classes and workshops with local and regional artists and the touring Broadway casts of RENT, Disney's ALADDIN, and HAMILTON. The program culminated in the CAPA Marquee Awards Showcase, a red-carpet event featuring 157 participating student performers and technical crew in live performances and the announcement of the winners in each of the ten awards categories. Congratulations to Eastmoor Academy High School on winning the inaugural CAPA Marquee Award for Best Musical Production for Rent (School Edition)!
In June, CAPA Marquee Award winners Maeve Galalgher and Caleb Jingo took a CAPA-sponsored trip to New York City to represent the CAPA Marquee Awards and central Ohio at the 2019 Jimmy Awards. For nine days, they joined top musical theatre students from across the country in preparation for a special showcase performance at the Minskoff Theatre on Broadway on June 24, 2019
OTHER EDUCATION HIGHLIGHTS
In partnership with The Columbus Foundation, CAPA invited the community to participate in a series of free, spoken word workshops and a Poetry Slam inspired by themes from the Broadway musical HAMILTON. 70 participants ranging in age from 7-69 attended the community workshops, and 25 went on to compete in a Poetry Slam. The winners of the youth and adult categories were each awarded a pair of tickets to see the Broadway musical HAMILTON during its Columbus engagement.
More than 6,000 students from 13 central Ohio counties attended CAPA's Passport to Learning student matinee series.
In addition, CAPA awarded scholarships and transportation assistance to schools with financial need.
CAPA offered 23 free master classes and workshops to the public and school/community groups this season, reaching more than 1,000 community members.
CAPA's Education & Outreach programs enrich the lives of central Ohio residents by providing free and low-cost creative experiences that are varied, diverse, and accessible. We believe everyone in our community deserves to experience the transformative power of the arts and our many community collaborations enable us to fulfill that belief.
Community Partners
Corporate, Foundation, & Government Support
July 1, 2018 – June 30, 2019
+ CAPITAL CAMPAIGN
@ EDUCATION
* GALA
Individual Investors
July 1, 2018 – June 30, 2019
+ CAPITAL CAMPAIGN
@ EDUCATION
* GALA
Dynamic Presentations
CAPA brings the best national and international performing arts to its stages each year. In the 2018-19 season, CAPA presented 60 different productions for Columbus audiences.
Highlights include:
Hamilton*
RENT*
Disney's Aladdin*
Aaron Diehl
Ailey II
Boney James
Dance Theatre of Harlem
Dave Koz and Friends Christmas Tour 2018
Diavolo
Erth's Prehistoric Aquarium Adventure
Harlem Gospel Choir
The High Kings
*Co-presented with Broadway in Columbus
The Hip Hop Nutcracker
Henry Rollins Travel Slideshow Tour
The Irish Tenors
Iron & Wine
Jeff Tweedy
Ladysmith Black Mambazo
The New York Gilbert & Sullivan Players in The Mikado
National Geographic: Symphony for Our World
PJ Masks Live! Save the Day
The Temptations and The Four Tops
William Shatner Live
Zakir Hussain and Masters of Percussion
"We are proud to live in a city that has valued CAPA for 50 years! Happy Birthday!"
"Happy 50th birthday! Love all of the entertainment!
I have enjoyed the Ohio Theatre since 1947. So glad you saved it!"
"Happy 50th, CAPA! Discovering CAPA and everything it brings to town has been one of the greatest highlights as a theatre fan."
"There are so many favorite memories. I've never had a bad experience. We are beyond blessed to have CAPA here!"
"I have never seen a Broadway show in New York. CAPA is my Broadway moment for seeing live shows and getting dressed up!"
"Happy birthday CAPA!
Thanks for making Columbus a better place!
Here's to 50 more years!!"
"Summer Movie Series at the Ohio Theatre is an amazing experience and always a fun time for my family!"
"We attended a show at The Palace for the very first time earlier this spring. What a grand old dame – beautiful theatre! We will be back!"
PALACE THEATRE RENOVATION
All the decorative plaster work from the 60-foot-high dome to the floor was restored.

The ceililng and walls were repainted in a new color scheme that blends historical references and fresh, new colors.

The arches lining the walls were inlaid with a complementary damask-patterned wall covering. Massive red drapes were installed in the largest arches above the upper boxes.

New seats were installed on the main floor, and balcony seats were refurbished.

All 70 light fixtures were refurbished, including the grand chandelier. A new LED house lighting system was installed in the dome and main chandelier. 1,200 light bulbs were replaced, and more than 100,000 crystals were polished and reassembled.
Financial Highlights
CAPA's operating revenues increased 14% in Fiscal 2019 to surpass $24.6M. Ticket sales were up 26% as a result of our strong Broadway season, which included HAMILTON.
Payroll & Related Expense and Artistic Programming remain the largest expense items for CAPA, comprising over 70% of the operating expenditures for Fiscal 2019. Charitable purpose related expenses were 78% of total operating expenses for the year.
CAPA's financial position remains strong with nearly $60M in total assets including $37M of capital and building assets.
SHARED SERVICE AGREEMENTS
CAPA offers customized back office services to local arts organizations, allowing the organization to focus on continued, quality entertainment for their audiences. Service agreements can include marketing, publicity, ticketing, finance, human resources, IT, management, operations, and development.
CATCO
COLUMBUS SYMPHONY
FRANKLIN PARK CONSERVATORY
FRIENDS OF THE DREXEL
LINCOLN THEATRE ASSOCIATION
MCCOY CENTER FOR THE ARTS
OPERA COLUMBUS
CAPA OPERATING REVENUE: $24.6M
CAPA OPERATING EXPENSE: $24.4M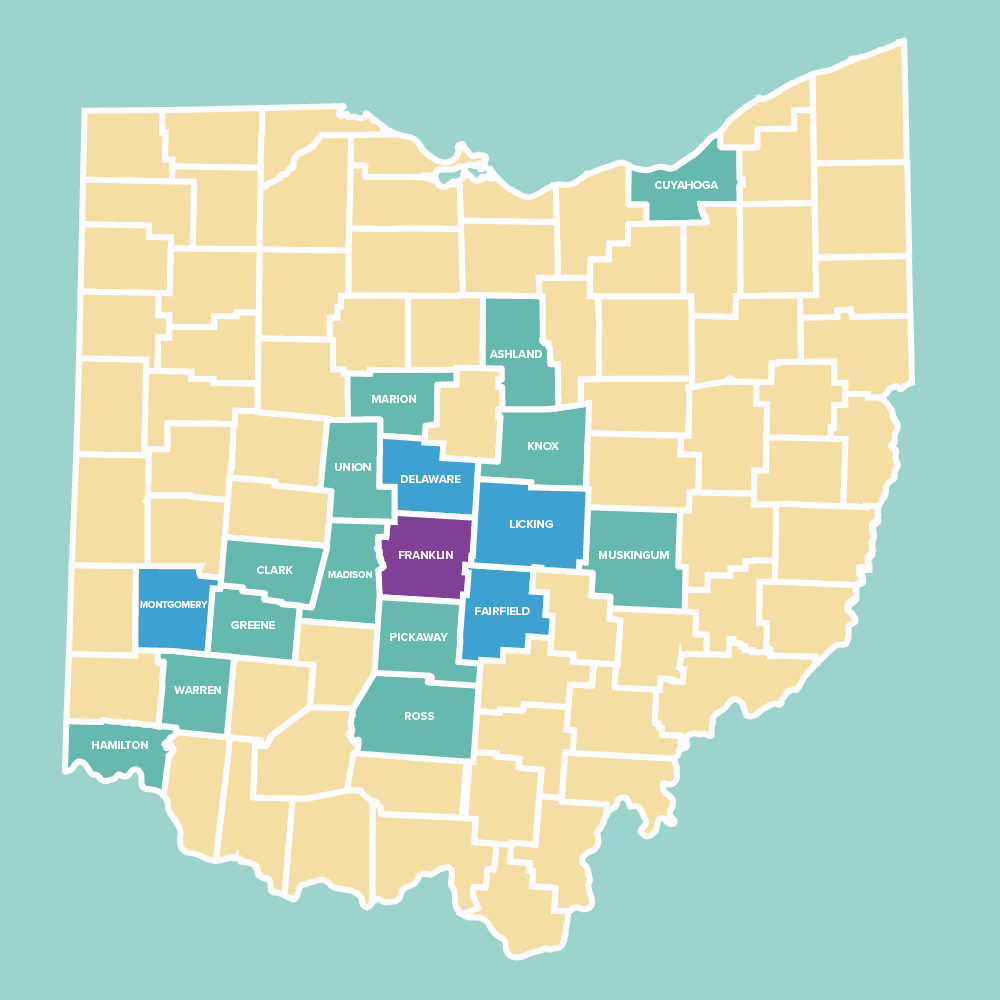 CAPA BY COUNTY
CAPA attracts patrons from all of Ohio's 88 counties. This infographic breaks down sales by county for tickets that included patron zip code data.

Board of Trustees
OFFICERS
Richard J. Helmreich, Chair
PORTER WRIGHT MORRIS & ARTHUR
Stephanie E. Green, Vice Chair & Treasurer
FIFTH THIRD BANK
Lawrence L. Fisher, Vice Chair
COMMUNITY VOLUNTEER
Michael Petrecca, Immediate Past Chair
PRICEWATERHOUSECOOPERS
Barbara B. Lach, Secretary
COLDWELL BANKER KING THOMPSON
TRUSTEES
Steven P. Brechter
GRAY STONE ADVISORS
Nicole V. Callam
HUNTINGTON NATIONAL BANK
Josh Corna
CONTINENTAL BUILDING COMPANY
Kristina Daiker
CARDINAL HEALTH
David English
DENISON UNIVERSITY
Robert Falcone, M.D.
COLUMBUS MEDICAL ASSOCIATION
David M. Feinberg
AMERICAN ELECTRIC POWER
John F. Finn
GARDNER, INC.
Debra Griffin
NATIONWIDE BANK
Stephen E. Ifeduba
WASHINGTON PRIME GROUP
Linda Kauffman
CHERRY HILL CONSULTING
T. Earl LeVere
ICE MILLER
Julie M. Lynch
JUDGE, COMMON PLEAS COURT
Wally O'Dell
COMMUNITY VOLUNTEER
Angela Pace
WBNS-TV
Steve Parrish
PVS CHEMICALS, INC.
Amie Preston
LBRANDS
Ramona Reyes
OUR LADY OF GUADALUPE CENTER
Toshia Safford
THE CENTER FOR HEALTHY FAMILIES
Michael Schoedinger
SCHOEDINGER FUNERAL SERVICES
Susan Tomasky
COMMUNITY VOLUNTEER
Laura B. Yaroma
HONDA R&D AMERICAS, INC.
Sandra Zimmerman
PNC FINANCIAL SERVICES GROUP
EX-OFFICIO TRUSTEES
David Schoedinger, emeritus
SCHOEDINGER FUNERAL SERVICES
Chad Whittington
CAPA PRESIDENT & CEO
Leadership Through the Years
Bob Karlsberger
1969–1970
C. Kenneth Smith
1970-1972
Robert Lazarus, Jr.
1972-1975
Rowland C. W. Brown
1975-1978
Carl E. Stallard
1978-1980
Robert N. Shamansky
1980-1981
David Ellies
1981-1983
Lawrence L. Fisher
1983-1984
Eugene C. D'Angelo, Jr.
1984-1989
David R. Meuse
1989-2002
John F. Finn
2002-2006
Michael A. Petrecca
2006-2014
Richard J. Helmreich
2014-present
Larry Fisher
Scott Whitlock
Jean Whallon
Bob Karlsberger
Alan W. McCracken
1969-1974
Donald R. Streibig
1974-1983
Robert A. Freedman
1983-1984
Douglas F. Kridler
1984-2002
William B. Conner, Jr.
2002-2016
Chad E. Whittington
2016-present
WE LOVE OUR VOLUNTEERS
Here at CAPA, we rely on volunteers every day. Our army of dedicated volunteer ushers get patrons safely to their seats, keep lines moving, answer questions, and SO much more for the hundreds of events that grace our stages every year. As CAPA celebrates its 50th anniversary, we also celebrate the generosity of our volunteers who have kept us running smoothly for those five decades. We sincerely thank you for supporting the arts and our community through the gift of your time and big hearts. We couldn't do it without you!
CAPA thanks these generous donors: